Quality Canopies, Carports, Verandas & Awnings
If you're looking for a Canopy, Carport or Veranda, you'd be hard pressed to find the same quality at such a competative price.
iCon Roofs have over 50 years' experience in the construction and glazing industry.
We pride ourselves on carrying out projects to the highest standard with all work fully insured and undertaken by experienced installers working out of our depots in Herstmonceux, East Sussex and Crawley, West Sussex.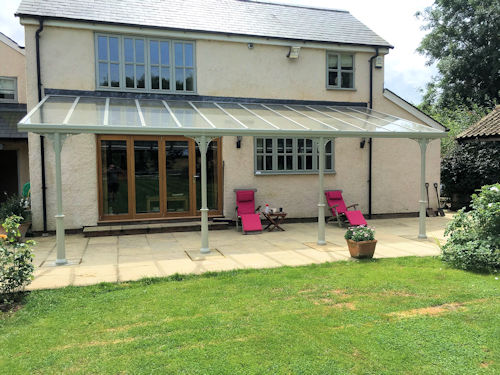 The Most Versatile & Robust Systems Available in the South East
25 Year Life Expectancy, Robust Aluminium Construction & UK Wind & Snow Loading Conformity = 100% Satisfaction.
From enquiry to installation, it couldn't be easier…
Here's how it works:
 Give us a Call for a Quick Quote
 We'll Arrange a Site Survey
 We'll Show You Product Samples
 If You're Happy, Place Your Order
 Our Experienced Team will Install
Frequently Asked Questions
Q. Do you have any colour options available for your carports and canopies?
A. Yes. The aluminium framework used in our Simplicity products is supplied in white as standard but can be coloured to any RAL or BS colour to suit your requirements.
Q. Do you install?
A. Yes. We install across the South East using our own teams of experienced and skilled trades people.
Q. Do you offer glass roofing panels?
A. Yes! Our Simplicity 6 system is fitted with self-cleaning glass to create a sparkling canopy or carport that offers an unobstructed view of the sky from under your canopy, perfect for star gazing at night!
Q. What roofing options do you offer?
A. Yes. Our 4 Simplicity systems are each designed to be used with a specific roofing thickness and material. The Simplicity 35 has a 35mm polycarbonate roof and the Simplicity 16 has a 16mm polycarbonate roof. For added luxury, our Simplicity 6 is fitted with 6mm toughened glass and our Simplicity Alfresco is fitted with 8mm toughened glass for the ultimate high-end finish to your veranda.
Q. Are your products classified as Non-Fragile?
A. Yes. The Simplicity 35 has passed the CR(M) 001:2005 Test for Non-Fragility of Profiled Sheeted Roof Assemblies and is certified as a Non-Fragile system. The Simplicity 16 and 6 systems are not classified as Non-Fragile and so require the roof to be labelled as such if installed in a commercial environment.
Q. Do your structures require planning permission or building regulations?
A. Unlikely, but Planning permission and/or building regulations are sometimes required before a canopy, veranda or carport can be installed, this is all dependant on a number of factors including the area the structure will cover, the height and whether your building is a listed building or on designated land. We advise contacting your local planning department for specific advice on your requirements.
Q. How do I order?
A. You can call us on our contact number at the top of this page to speak to one of our team or email us with your request and we will get back to you as quickly as possible.
Q. What are your lead times?
A. Our lead times vary dependent on the product chosen, however, we will always aim to get these to you within the deadlines required by you.